Hire a coach with driver in Salzburg
When you arrive in Salzburg in a large group you may have a need to hire a coach with driver in Salzburg. We propose a large selection of coaches for various occasions. Request a quote for rental of coach with driver in Salzburg or book online. We serve travel agencies, companies, associations and individuals.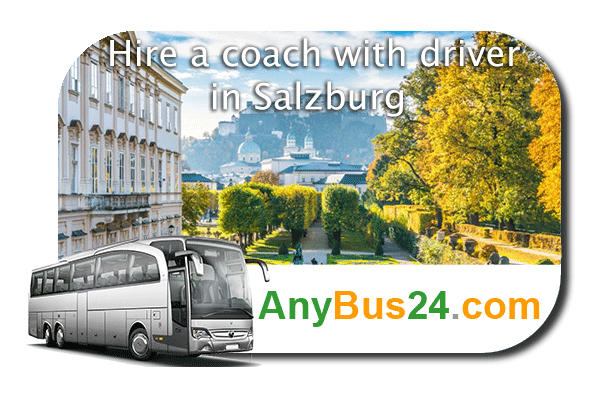 AnyBus24.com proposes you to hire a coach with driver in Salzburg. We provide a nice selection of coaches in Salzburg, including normal and luxury coaches, with capacities ranging from 28 passenger seats to a big coach capable to accommodate 91 persons. We offer comfortable coaches of leading brands: Mercedes-Benz, Setra, Volvo, Neoplan and some others. All proposed coaches and drivers have due professional authorisations and insurance. Our driver can pick you up directly at the airport and ensure your travel needs during all your stay. For a smaller group you may also rent a minibus with driver in Salzburg.
You can hire a coach with driver in Salzburg in two ways: via requesting a quote and via online booking
Request a quote to
hire a coach with driver in Salzburg
Starting with a request for quote is normally the best way to rent a coach with driver in Salzburg. In this way we will be able to look through our availabilities and propose you the best rate. To be able to quote we need the following information for each day: number of passengers, pick-up and drop-off locations, itinerary or required mileage, hours of service or, if you only need just transfers, pick-up time for each transfer. Once we know your travel programme we normally will be able to make you our price proposal within a few hours. As the number 24 in our name suggests we work almost round the clock.
Hire a coach with driver in Salzburg online
If you need just a one-way transfer or an hourly service not surpassing one day you can hire a coach directly online. Please note that online reservation for a coach and driver must be made at least 72 hours in advance. Each online reservation is currently also verified by our customer service.
Price of hiring a coach with driver in Salzburg
The pricing of a coach with driver in Salzburg takes into account fuel/ energy price, coach amortisation/ lease cost, maintenance and garage costs, driver remuneration, taxes and some other costs. Furthermore, the price can be impacted by other factors such as coach type, seasonality or big events. We have observed the following average price in the past 2-year rolling term:
Price of hire of a coach with driver in Salzburg
Description

Average price of hiring a coach with driver in Salzburg for 8 hours with the included mileage of 80 kilometers

Price

€

670
This information may be of help for budget purposes but to know our precise quote adapted to your particular situation we encourage you to send us your travel programme in Salzburg for pricing and we will do our best to quickly come back to you with our personalised quote.
Note: The price published on https://www.anybus24.com/at/en/coach/rent-a-coach-in-Salzburg.html is available OnlineOnly up to 2024-07-06 and depends on availability at the time of booking.
By ordering a bus in Salzburg with us you benefit from the excellent relationships that our head company 1CARES.com has established over the years with a number of reliable carriers in Salzburg. We are basically the same team abiding by the same strict professional standards but with a particular focus on bus rental. We are fully dedicated to serve our customers whenever they need to hire a bus in Salzburg. We work responsibly and honestly and our clients trust us to carry out their most complex projects.
"... Once again your Company has shown great professionalism from start to finish. For my part as the organiser it is so reassuring to be able to start the process and know that once the timetable and finances have been completed, there is no further need to worry."
We cannot say better than this to describe the essence of our service. We make the service of the rental of bus in Salzburg look easy and straightforward so that our clients have nothing to worry about and can just fully focus on their core business.