Hire a minibus with driver in France
If you need to hire a minibus with driver in France we will be delighted to propose you our service. We provide all types of minibuses and vans for any occasion that you may have, be it an airport transfer or a multi-day sightseeing tour. With us you can rent a minibus with driver in France directly online or via requesting a quote.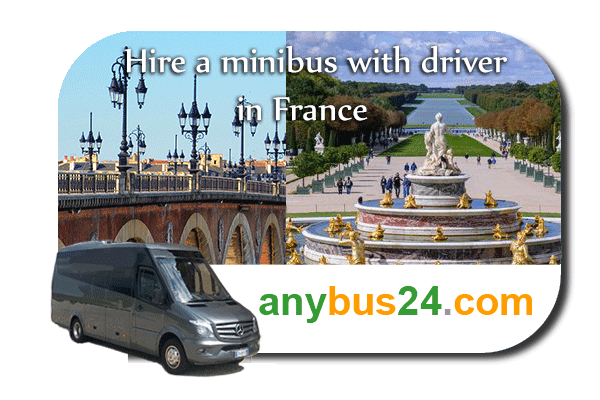 AnyBus24.com proposes you hire a minibus with driver in France. You can be certain to always be able to find a necessary availability for a required minibus with driver at most competitive prices, as we collaborate with many carriers in France who offer their services via our booking system. The fleet of minibuses in France that we propose covers the entire range from a minivan for 6-8 passengers to a minibus capable to comfortably transport up to 18 passengers. Both economy class and business class minibuses are available. For bigger groups we also propose you to rent a bus in France.
You can hire a minibus with driver throughout France, Monaco and Luxembourg. In France we operate in Paris, Nice, Lyon, Lille, Bordeaux, throughout Côte d'Azur, Strasbourg, Toulouse and a number of other areas.
Start by requesting a quote or book a minibus with driver in France online directly in our reservation system:
Request a quote to
hire a minibus with driver in France
Send us your programme and requirements or select a proposed itinerary and let our customer service consultant do the rest. We are able to provide you with our quote for your minibus hire with driver in France within four hours (outside of night hours 22:30-08:00 local time). For an itinerary proposed on our website you will receive our price proposal in no time.
Hire a minibus with driver in France online
You can book a minibus with driver in France directly in our system, which will quickly search through the offers of our carriers and make you our price proposal online. It will take you just a few minutes to complete your booking process. It should be noted that this way of rental of minibus with driver is more suitable for a straightforward journey, for example, a one-way transfer or hourly service within one day. For a more complex trip or when you need a specific minibus we advise you to proceed via requesting a quote. Note also that online reservation must be made at least 24 hours in advance.
Price of hiring a minibus with driver in France
The pricing of minibus hire with driver in France includes all direct costs such as fuel, driver's remuneration, maintenance and garage costs, minibus depreciation and overheads. If the order requires staying overnight outside of the home base driver expenses (hotel and meals) will also be incurred. Besides, minibus category and supply and demand situation may also play a role in our quote. As a consequence, we must know your travel programme and dates before we can provide our exact quote. For your budget calculation it might be useful to consider the average price for one day hire of a minibus with driver in France in the last two years:
Price of hire of a minibus with driver in France
Description

Average price of hiring a minibus with driver in France for 8 hours with the mileage of 80 kilometers

Price

€

666
You can send us your travel programme in France via requesting a quote via the link above or via the form available on our contacts page or directly to our email address. Once we know all essential details we should be able to quote within 4 working hours (local time).
The price of hiring a van with driver in France published on https://www.anybus24.com/fr/en/services/rent-a-van.html is available OnlineOnly up to 2023-09-18 and depends on availability.
Our customer service will guide you at each step of the booking process. You will receive our proposal with a necessary level of detail so you could confidently take your decision. For your convenience, prior to the departure date we will inform you about the contact details of your driver (name and mobile phone) or dispatcher. We will ensure the service in accordance with our terms and conditions. By booking with us you you will benefit from our strong reputation and long experience in this business. Our focus is always on fair play and long-term relationships with our customers and partners.